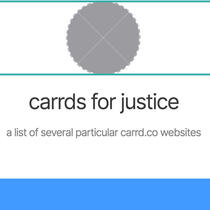 carrds for justice
a list of many other carrd.co websites
Navigation Menu
If you're here for information on world issues and the such, don't limit your research to what's written on Carrd sites. There are likely plenty of resources and threads about whichever topic you're interested in.
Fearing death is not a political statement.

Not wanting other people to die is not a political statement.

It is human nature.

Stop killing innocent people.

Stop making people needlessly suffer.

Is that really too much to ask for?
metalistforjustice.carrd.co
by twitter user @ccc_1933
Feel free to contact me if you want a site to be added to the list.
Just... don't be a jerk about it, please.
last updated
August 21st, 2021 (Saturday)

6:12 PM (18:12)

PDT (UTC−07:00)
-----
Mental Health
-----
Systems / DID / OSDD
-----
Tone Indicators Info
-----
Petitions and Donating
-----
Protest Safety
-----
Black Lives Matter
-----
Black Trans Lives Matter
-----
LGBTQ+ Rights
-----
Fighting Anti-Semitism
-----
More Carrds Related to Human Rights Issues